British Pylon Field Guide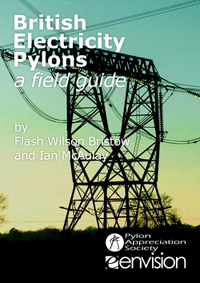 British Electricity Pylons - A Field Guide is a guide to pylons on mainland UK written by Flash Wilson Bristow from this Society and Ian McAulay of Envision.

As each chapter is produced it will be published here, so do check back regularly. It is anticipated that all standard designs of pylon will be covered, along with explanatory chapters covering the principles of tower design and some of the physics behind electricity transmission.

The glossary will be updated with each new chapter, so as each part is published, be sure to grab a new copy of the glossary too. Terms which are explained in the glossary will be italicised where they first appear in each chapter.

The chapters will be published as they are written; this is not in any particular order. However they will be listed below in the order in which they are intended to appear in the completed Guide.

This field guide supersedes the Spotter's Guide, which will remain online for reference until this guide is complete.

Downloads



Please send any comments on the Field Guide to pylons@gorge.org or discuss it on the the messageboard.