Our logo
As of July 2008 we have a new logo. This is intended to be more visually appealing and to quickly depict a pylon. It was designed by Gwyn Fisher.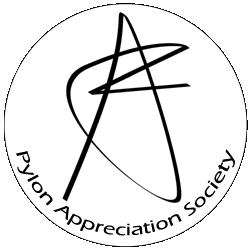 The welcome pack for new members will contain a 1" button badge with the above image on it.

If you are an existing member and would like a new or extra badge, no problem! We are making them available at cost price.

Just click to visit the members shop. You will need to login to the website to do so.

Badges are only available to existing members!

If you are not a member, please see how to join.